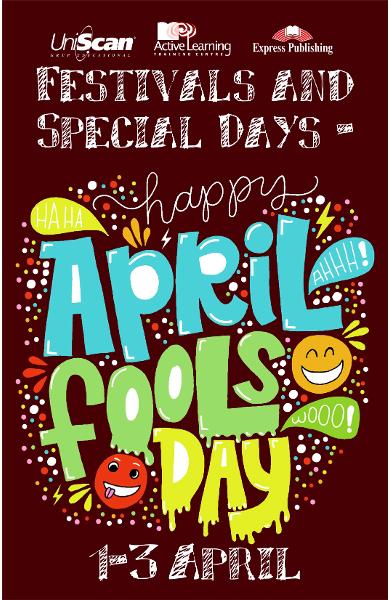 Festivals and Special Days - April Round: April Fool's Day

Locatie Online
FESTIVALS & SPECIAL DAYS – Concurs Interactiv Online
Concursul Festivals & Special Days este o invitație la a continua să ne bucurăm împreună de evenimentele care dau continuitate și sens vieții noastre, la bucurie și distracție, apelând la creativitatea și originalitatea noastră pentru a găsi noi modalități de a crea și țese legături de prietenie, de a rămâne în contact în ciuda distanțării, de a conlucra, de a stimula și motiva mințile și sufletele învățăceilor noștri.
Concursul se va desfășura în limba engleză și propune activități extra-curriculare potrivite pentru desfășurarea orelor în săptămâna « școala altfel », asigurând un mediu de educație non-formală.
Concursul nu pune accent pe competiție, ci pe plăcerea de a rezolva o sarcină eficient, cu responsabilitate și spirit de echipă, astfel încât rezultatele fiecăruia, în parte și în grup, să fie apreciate.
Temele lunare:
28-31 Octombrie: Halloween
23-28 Noiembrie: Thanksgiving Day
14-17 Decembrie: Christmas
26-28 Ianuarie: The Groundhog Day
10-13 Februarie: Valentine's Day
15-17 Martie: St Patrick's Day
1-3 Aprilie: April Fool's Day
12-14 Mai: May Day
1-3 Iunie: Children's Day
Cine participă?
Concursul se adresează următoarelor grupe de vârstă :
Juniors A1/A2 (clasele a III-a și a IV-a)
Pre-teens A1/A2 (clasele a V-a și a VI-a)
Pre-Teens B1/B1+ (clasele a VII-a și a VIII-a)
Teens B1+/B2 (clasele a IX-a și a X-a)
Unde ?
Ne vom întâlni în sălile virtuale oferite de Zoom. Link-ul invitației va fi trimis profesorului coordonator cu o zi înainte de concurs.
Cum ?
Fiecare sesiune de concurs va reuni pe Zoom, 6 echipe de elevi. Fiecare echipă va avea 14 elevi și un profesor coordonator. Elevii se vor angaja în activități interesante pentru a câștiga concursul. Grupele vor fi create aleatoriu și fiecărui grup i se va atribui un coordonator (unul dintre profesorii însoțitori). Fiecare profesor va monitoriza activitatea elevilor în sălile create de organizator. După ce termină de realizat proiectele propuse, elevii și profesorii se reunesc în plen pentru a-și prezenta proiectele întregului grup.
Fiecare lună va aduce o nouă sărbătoare și o nouă rundă a concursului. Desfășurarea concursului pe o perioadă mai lungă de timp nu atrage după sine obligativitatea elevilor de a participa la toate rundele. Dimpotrivă este de preferat să dăm șansa de a se implica cât mai multor copii, alcătuind echipe diferite de la lună la lună.
Certificate și premii:
Elevii participanti vor primi:
- o diplomă de participare la concurs;
- un cod de reducere de 20% pe care îl pot folosi pentru a cumpăra cărți în limba engleză pe www.uniscan.ro până la sfârșitul lunii august 2021;
- o participare gratuita la un atelier de dezvoltare personala.
Profesorii coordonatori vor primi un cod gratuit de activare a unui material digital (Digibook) oferite de Editura Express Publishing, precum și un certificat de coordonator.
Înscriere
Un profesor poate participa cu cel puțin un grup de 14 elevi (de aceeași vârstă). Profesorul stabilește data și ora împreună cu organizatorul, Uniscan Grup Educațional și vor primi un link de înscriere pentru a-l transmite părinților. Elevii cu vârsta sub 16 ani trebuie să fie înregistrați de părinți. Participarea este gratuită.
Calendar
Concursul durează 2 ore. Fiecare rundă se va relua pe parcursul a 3-4 zile, în fiecare lună și vor fi două sesiuni diferite pe zi în timpul săptămânii și una sâmbăta. Temele diferă de la o lună la alta și au legătură cu sărbătorile din luna respectivă. Pentru a face posibilă participarea cât mai multor elevi, vă recomandăm să implicați elevi diferiți în diversele runde ale concursului.
Pentru înscriere și planificare este necesar să sunați la unul din numerele de mai jos pentru a stabili orarul grupei și a primi linkul corect pentru înscriere.
Mihaela Olaru: 0733300909
Cristina Lepădatu: 0733300906
Simona Popa: 0723389188
s
imona.popa@uniscan.ro
Simona Popa
Simona is a teacher of English and psychologist who is currently the managing director of Uniscan Grup Educational and Active Learning Training Center. She strongly believes the key to success and happiness in life depends on the way we get educated, and thus, parents and teachers have the most demanding job ever. She thinks language teachers give people the most precious tool humanity has ever discovered and has spent a long time on designing, self-developing and learning programs, rethinking education holistically and humanistically so as to lead us to discover and understand our true selves, so as to make sense of our life experiences and use our emotional and intellectual potential to enable us to feel the bliss of being. She runs self-development programs for teens and adults who want to go on a journey of self-discovery through psychodrama and training programs for teachers and parents.
Mihaela Olaru
Mihaela Olaru holds a Bachelor's Degree in Universal Literature and English issued by the University of Bucharest and has a teaching experience of over 10 years. She also has a TEFL and TEYL teaching Certificate issued by the UK and ALAP accredited TESOL Worldwide in 2017 and a training certificate issued by the Romanian Ministry of Education in 2010. She has been teaching English not only in public schools but also in renowned private schools and was actively involved in multiple international projects with countries such as Portugal, Spain, Italy, Bulgaria, Serbia, Turkey, the UK, but also China and Taiwan. She joined Uniscan Grup Educational as an ELT Consultant and teacher trainer in 2019 and had multiple presentations and workshops in cities throughout the country.
Eliza Raduca
Eliza is a teacher, teacher trainer, international speaker and presenter whose main educational interests have always been related to finding solutions to the needs of students and teachers alike. She has participated as a speaker in various conferences and seminars in our country and abroad in Greece, Bulgaria, Moldova, Germany driven by her desire to enlarge the perspective of her professional development. What she has always valued, as part of her development, has been the meaningful interaction between the trainer and the trainee and she has always enjoyed both perspectives, as they both contribute to our professional and personal growth. She has always been in search of improvement and innovation as she believes that the future of education depends on the development and the proper usage of a blend of technology and efficient teaching techniques.
She is currently a freelance trainer, manages REG Training and has just embarked with Uniscan & Active Learning Training Centre on a joint venture to reach a common desired mission: Teacher training.
She is a CELTA certified teacher, BETA and ASMERO affiliated, holds a BA in Philology - Foreign Languages (Arabic, English) - the University of Bucharest, and a Master of Science in Political Science - the National School of Political Sciences and she has also taken part in the Oxford Teachers' Academy Masterclass – the University of Oxford, Department for Continuing Education & Oxford University Press.