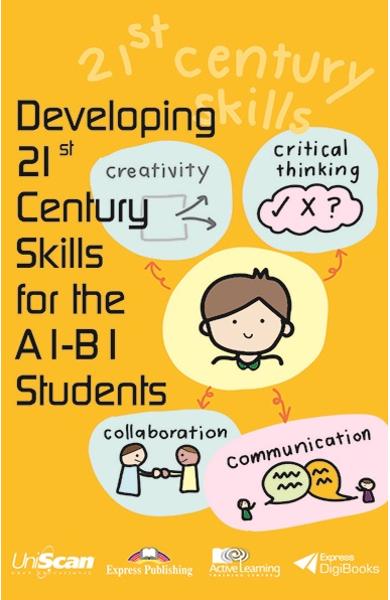 Developing 21st Century Skills for the A1-B1 Students

Locatie
Online
TIMISOARA - Colegiul Tehnic Henri Coandă, str. C. Brediceanu, nr 37
TARGU NEAMT - Colegiul Național "Ștefan cel Mare", Bulevardul Ștefan cel Mare nr. 67
PLOIESTI - Casa Corpului Didactic, Str. Democratiei nr, 35
IASI - Colegiul Național "Mihai Eminescu", Str. Mihail Kogălniceanu nr. 10
PLOIESTI - Casa Corpului Didactic, Strada Democrației 35
SLATINA - Biblioteca Judeteana Olt "Ion Minulescu", B-dul Alexandru Ioan Cuza, nr. 3B
HUNEDOARA - Colegiul Național Iancu de Hunedoara, Str. Victoriei nr.12
BACAU - Colegiul Național "Vasile Alecsandri", Strada Vasile Alecsandri 37
SUCEAVA - Colegiul Național Mihai Eminescu, Strada Mărășești 57
DROBETA-TURNU SEVERIN - Colegiul Național Pedagogic Stefan Odobleja, Strada Crișan 48
ADJUD - Colegiul National Emil Botta, str. Libertatii, nr. 4
BUZAU - Liceul de Arte "Margareta Sterian", str. Bucegi 6
GALATI - Colegiul National Vasile Alecsandri, Str. Nicolae Bălcescu, nr. 41
CLUJ-NAPOCA - Colegiul Tehnic "Ana Aslan", Strada Decebal 41

Developing 21st Century Skills for the A1-B1 Students
New times always call for new adventures in which all the challenges can be faced with innovative methods and ideas. "Developing 21st Century Skills for the A1-B1 Students" is a workshop that puts forward the idea of innovation in ELT. In this workshop we are going to explore together new ways to incorporate the skills into our daily teaching so that they will help the 21st century students achieve success. We are going to explore through different types of activities the essential 4 Cs of the 21st century skills Communication, Collaboration, Critical Thinking and Creativity. We are waiting for you to join us in this new adventure and have fun while practicing, teaching and above all learning together.

Free resource materials for teachers will be available to ease our work.

All participants will receive a Certificate of Attendance.
Ana-Alina Ichim
Ana-Alina Ichim is a PhD student at the Doctoral School of Economics and Business Administration of "A.I. Cuza" University of Iasi, Management section, a school inspector for modern languages within Neamt County School Inspectorate, and a teacher of English at "Stefan cel Mare" National College in Târgu-Neamț. Her professional training includes a Bachelor's degree in Philology and Letters (English and French), a post-graduation specialization in Private Law, a Master's degree in Literary and Cultural Studies, an international training at Exeter University, UK and an international course at The Open University of London. Her professional experience consists of 22 years of didactical activity, 15 years as translator and interpreter, 6 years as an educational manager, author of two educational auxiliary materials (ISBN) and a cultural-scientific work (ISBN). She is a founding member of the "Edumond" Educational Assciation and "cAUTă" Association for the therapy of children with autistic disorders. More information can be found at www.anaalinaichim.wordpress.com.
Egina Buftea-Jercan
Egina Buftea-Jercan graduated from the Bucharest University - the Faculty of Letters in 1997 and has been teaching English at Colegiul "Ferdinand I" Măneciu, Prahova County. She holds a PhD in Romanian and English Literature and is a teacher trainer and mentor. At the same time, she is involved with preparing students for Cambridge Examinations with excellent results. She is extremely dedicated to teaching and is continuously interested in her professional development. Egina loves working with children and helping them become the best version of themselves. She strongly believes that a teacher must be the student's partner in his learning journey as well as in his discovery.
Adriana Athes
Adriana Athes holds a BA from the Faculty of Letters, "Alexandru Ioan Cuza" University of Iaşi, with an MA in American Cultural Studies and one in Conflict Management. She has been teaching English at "Mihai Eminescu" National College since 2005. Her main interests include Cambridge exams, literary analysis and debate, as well as theatre - broadening her view on students' abilities and interests, shaping her teaching methodology and bringing her closer to her students. She has also published articles in various publications.
Mihaela Pasciuc
Mihaela Pasciuc has been a teacher of English at "M. Eminescu" National College in Iași since 2000, and has gained, over the years, experience with different types of audiences ranging from young learners to teenagers. She is a teacher trainer and a mentor for university students during their teaching practice. She also coordinates the debate club in her school and she has been a member of the MATE board for the past 10 years. She has also published articles in several publications and has co-authored some ESL resources for exams. Her main interests include film education, academic debate as well as creative writing, striving to develop students' critical thinking while also empowering them to face the challenges of the real world.
Irma Kiss
Teacher of English in the past 19 years at "Iancu de Hunedoara" National College in Hunedoara, teaching students aged 11-18 in intensive and bilingual classes, Head of Department of Languages, Cambridge Exam partner for EE Centre, preparing for FCE, CAE, IELTS and TOEFL.
She has participated in various conferences and seminars in Romania and abroad in England, Italy, Portugal in order to enhance professional development. The common goal of all courses has always been professional and personal growth, with a view to improve teaching strategies and teacher-student communication, both online and offline. One particular interest is in boosting creativity through art and theatre while coordinating the English Theatre Club and encouraging reading through the English Book Club.
Since the pandemic has brought about a sudden need for technology-based approaches, she believes that the future of teaching lies in the successful blend of rooted and innovation, as technology-based teaching is here to stay. Yet, we are building upon established set values. At the same time, the student of future generations is at the core of all teaching endeavours and a highly active participant in dynamic, student-focused classes, preparing highly autonomous learners. Therefore, we as teachers must adjust, adapt and grow.
She holds a BA in Philology - Foreign Languages - the University of Alba Iulia, and a MA in English and Romanian at the same university, also taking part in numerous professional development courses offered by the British Council, the American Embassy, Roehampton University, University of Reading, Macquarie University and others.
Oana Jugariu
Oana Irina Jugariu has been a teacher of English at "Vasile Alecsandri" National College since 1999, when she graduated from "Al. I. Cuza" University, Iasi, the Faculty of Letters. She is also the holder of a Master degree in "Translation and Interpreting Strategies" from the same university. Additionally, she is an assessor for national contests and exams (CPEECN), a teacher trainer, a mentor, as well as a member of the Advisory Council in Bacau. Currently, she is teaching secondary and highschool students, having excellent results in preparing them for Cambridge exams, as well as the English National Contest.
During the 22 years of teaching English at "Vasile Alecsandri" National College, she has acumulated noteworthy experience in the field, being focused on helping students progress, since learning English is a "Must" for their future careers and not only.
Raluca Cirtu
Raluca Cirtu, an English language teacher having a lot of experience teaching in the public school system, involved in a lot of projects that have helped her develop her abilities in the field and improve her techniques in order to motivate and inspire her students. Holding a BA in Philology (English -Romanian) – "Stefan cel Mare" University Suceava since 2004, she is currently an ELT at "Mihai Eminescu" National College Suceava and also a mentor in teaching methodology.
She has always been preoccupied by personal and professional growth, constantly trying to bring innovation and efficiency in her teaching techniques. She has learned that the best way her students acquire language is through interaction and that the teacher should always be prepared to meet their needs by introducing and consolidating an interplay of factors and methods that help them reach the highest level of performance. Her main aim as a teacher is being able to convey the English language in an attractive and interesting manner, so that her students increase their level of knowledge in a pleasant and stimulating environment.
Aurelia Mihaela Nicolaescu
Aurelia Mihaela Nicolaescu is an English teacher, teacher trainer and mentor as well as councilor for personal development. Currently preparing students for Cambridge exams, she has accumulated significant experience in the field with a focus on building meaningful relationships with the students and offering them tools to simultaneously develop as individuals and independent users of English. She is a graduate of the e-teacher program "Building Teaching Skills Through the Interactive Web" (Web Skills) course with the American English Institute in the Linguistics Department at the University of Oregon (UO AEI) and the school coordinator for projects Erasmus+, Global English .
Izabela Boncea
Izabela Boncea is a teacher of English with over 22 years of teaching experience. She is a trainer in education and a public speaker. She is also a CELTA teacher and a Cambridge speaking examiner and she holds a Master's degree in Models of Communication and Public Relations. She strongly believes that in education Continuous Professional Development (CPD) is essential in order to keep up with this dynamic world. New approaches, quality materials and self commitment are the keys to make the English teaching more attractive and to help learners acquire the 21st century skills for a bright and successful future.
Nicoleta Nechita
Holder of a B.A. in Foreign Languages and a Master in Didactics of Philological Disciplines, she has been teaching English for 20 years for primary, lower and upper secondary pupils at "Margareta Sterian" Art High School, Buzau. Her preoccupation for further development is evidenced by the Comenius
scholarships: Refresher Course for English Teachers, Oxford, UK, Job-shadowing at Winton art & media College, Bournemouth, UK, Digital-Extra, Stockholm, Sweden, IATEFL Cambridge scholarship in 2013, Delta 3 Extending Practice and ELT Specialism, and Delta 2 training practice.
Ramona Smadu
Ramona Smadu is a teacher and a former assistant teacher trainer for lower secondary level. She graduated from "Dunărea de Jos" Faculty of Letters and Science in 1997 and has been teaching ever since. Her teaching experience includes teaching pre-primary, primary and secondary school students at School no 22 where she has activated for 20 years, but also secondary and high school students at "Vasile Alecsandri" National College in Galati where she is currently working.
She firmly believes one of the most important tools one may use in life is learning languages and all language teachers have a responsibility to enable students to use it for their self-growing and future careers. She sees the teacher as a student's partner in his discovering, developing and learning journey.
Artemiza Lovin
Artemiza Lovin has been teaching English since 2000. She has graduated from 'Dunarea de Jos' University, Faculty of Letters and has taught primary and secondary students at School No 29 for 15 years when she moved to 'Vasile Alecsandri' National College teaching students aged 12 to 19. She has always been interested in motivating the students to see the study of a foreign language as a way of developing other skills such as team-work, leadership and communication and got them involved in many projects such as Comenius, eTwinning and Erasmus+ to help them broaden their horizons and learn about other cultures as well. She considers that the biggest challenge a teacher may have when working with teenagers is getting them to achieve more than they think they can, building a relationship based on trust and adapting the process of teaching to their specific needs.
Anca Nicoleta Trif
Anca Trif has been a teacher since 2000, when she graduated from "Babes-Bolyai" University, the Faculty of Letters and a trainer for a year. She currently works at "George Baritiu" National College in Cluj-Napoca. She is continuously interested in her professional development and never refuses a new challenge. She loves her job, she loves working with children and she considers it an honour to be part of her students' life and to get the chance to witness their growth. She strongly believes that a teacher's role, besides that of promoting learning, is to build a caring, trusting relationship with students and to help them become their best versions.
Eliza Raduca
Eliza is a teacher, international speaker and presenter whose main educational interests have always been related to finding solutions to the needs of students and teachers alike. She has participated as a speaker in various conferences and seminars in our country and abroad in Greece, Bulgaria, Moldova, Germany driven by her desire to enlarge the perspective of her professional development. What she has always valued, as part of her development, has been the meaningful interaction between the trainer and the trainee and she has always enjoyed both perspectives, as they both contribute to our professional and personal growth. She has always been in search of improvement and innovation as she believes that the future of education depends on the development and the proper usage of a blend of technology and efficient teaching techniques.
She is a CELTA certified teacher, BETA and ASMERO affiliated, holds a BA in Philology - Foreign Languages (Arabic, English) - the University of Bucharest, and a Master of Science in Political Science - the National School of Political Sciences and she has also taken part in the Oxford Teachers' Academy Masterclass – the University of Oxford, Department for Continuing Education & Oxford University Press.