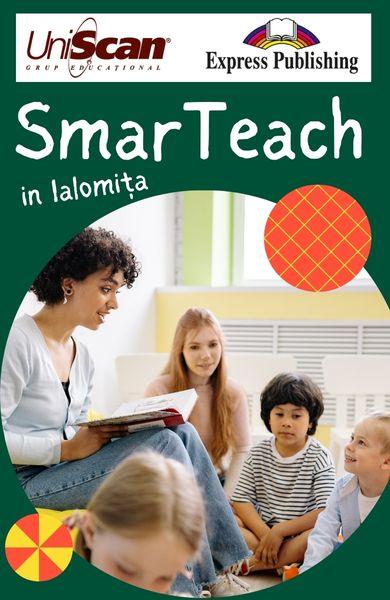 SmarTeach in Ialomita

Locatie Inspectoratul Scolar Ialomita
Course details:
Duration: a 24-hour methodology course on SEL blended ELT (8 x 3-hour session/month)
Location: Inspectoratul Județean Ialomița
Date

Topic

Brief description

1

November 28th 2023

Engaging Learners' Motivation, Lesson Design (Setting Aims), Classroom Management-

Group formation, icebreakers and warmers, goal setting, engaging learners

Teacher: Ramona Ruginescu

2

December

19th

2023

Social and Emotional Learning

SEL: Overview, the role of emotions in learning

Teacher: Marcela Jalba

3

January

30th

2024

Getting along with Grammar & Vocabulary

Teach grammar and vocabulary lessons in creative, engaging, and motivating ways, Assessment & Evaluation

Teacher: Ramona Ruginescu

4

February

27th

2024

Creative & Engaging Ways of exploiting Reading & Listening

Developing primary and secondary students' listening and reading skills, Assessment & Evaluation

Teacher: Marcela Jalba

5

March

26th

2024

Creative & Engaging Ways of exploiting Writing/Speaking

Engage speaking fluency, communication, Assessment & Evaluation

Teacher: Ramona Ruginescu

6

April

16th

2024

Understanding and Applying CLIL Methodology (Content and Integrated Language Learning)

Overview of CLIL Approaches, Principles of CLIL, Learning skills, CLIL Lessons (ideas & activities), Intercultural Awareness in CLIL Lessons, Project work.

Teacher: Marcela Jalba

7

May

21st

2024

Using digital Technology in the Classroom

Using basic technology in the Classroom, Using video and audio tools

Teacher: Ramona Ruginescu

8

June

11th

2024

Storytelling, Music, Art & Games

Storytelling techniques, use of music, songs, visuals and fine arts, drama, and movement

Teacher: Marcela Jalba
The course is suitable for teachers interested to:
· develop more their abilities to teach English in creative, engaging and motivating ways;
· develop SEL techniques;
· use language as an object mediator to self-development;
· help students improve language skills while learning other subjects (CLIL);
· help students develop critical and reflexive thinking;
· develop humanistic techniques to approach holistic education
During the course we will explore ways to approach holistic and humanistic education. We will experience hands on activities you can use in class that make learning touchy, meaningful and relevant for your students. You will get to meet like-minded teachers with whom you can exchange ideas and collaborate. It's an invitation to challenging our creativity, explore and experience new, innovative techniques in English Language Teaching which stimulate, motivate and increase students' language and self-development.

A Certificate of attendance will be given to all participants.
Marcela Jalba
She has been teaching English for 28 years now, ever since she was a university student. She is a BA Philology graduate, specializing in the Romanian and English languages, and she also has an MA degree in Applied Modern Languages, University of Bucharest. Her academic journey led her to explore the intricate linguistic and cultural dimensions of these two diverse languages.
On the other hand, applied linguistics, as an interdisciplinary field of study that investigates the practical aspects of language use plays a critical role in exploring the connections between linguistics, language education, and culture and it allowed her to trace its influences, to marvel at dialectal and register diversity and gave her the opportunity to become a fair connoisseur of the English language.
Her career journey - teacher of English and inspector for the Modern Languages Dept. at the Ialomița County School Inspectorate - has been one of personal growth, cultural awareness, and professional opportunities, highlighting the importance of philology in preserving linguistic and cultural heritage, primarily.
She is therefore motivated by a deep commitment to education, a desire to enhance language learning, and a dedication to shaping effective curriculum and guidance. Her motivation stems from fostering a conducive learning environment, promoting student development, and contributing to the improvement of educational practices.
Ramona Ruginescu
She has been teaching English for 16 years in the public school system and has been involved in a lot of projects that helped her develop skills in the field and improve her techniques in order to engage and inspire her students.

Holding a BA in Philology (English -Romanian) – University of Bucharest, she is currently an ELT at "Mihai Viteazul" National College, Slobozia, a teacher trainer but also a mentor in teaching methodology.

She has been attending numerous personal and professional development programs, constantly trying to bring innovation and efficiency in her teaching techniques.

Her main aim as a teacher is being able to convey the English language in an innovative and interesting manner, building a caring, trusting relationship so that her students become their best version but also increase their level of knowledge in a pleasant and stimulating environment.