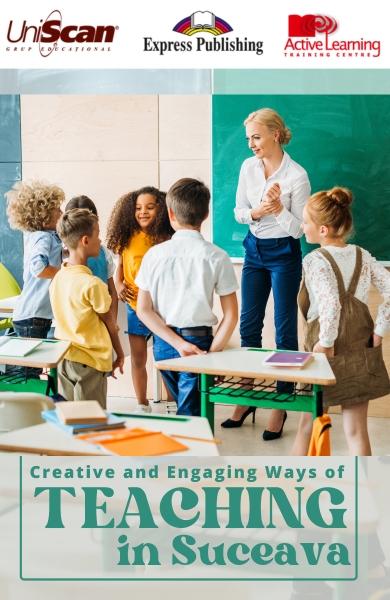 Creative and Engaging Ways of Teaching in Suceava

Locatie Colegiul National Mihai Eminescu
Course details:

Duration: a 24-hour methodology course on SEL blended ELT (8 x 3-hour/session)

The course is suitable for teachers interested to:
develop more their abilities to teach English in creative, engaging and motivating ways;

develop SEL techniques;

use language as an object mediator to self-development;

help students improve language skills while learning other subjects (CLIL);

help students develop critical and reflexive thinking;

develop humanistic techniques to approach holistic education
During the course we will explore ways to approach holistic and humanistic education. We will experience hands on activities you can use in class that make learning touchy, meaningful and relevant for your students. You will get to meet like-minded teachers with whom you can exchange ideas and collaborate. It's an invitation to challenging our creativity, explore and experience new, innovative techniques in English Language Teaching which stimulate, motivate and increase students' language and self-development.

All participants will be given a certificate at the end of the course.
Raluca Cirtu
Raluca Cirtu, an English language teacher having a lot of experience teaching in the public school system, involved in a lot of projects that have helped her develop her abilities in the field and improve her techniques in order to motivate and inspire her students. Holding a BA in Philology (English -Romanian) – "Stefan cel Mare" University Suceava since 2004, she is currently an ELT at "Mihai Eminescu" National College Suceava and also a mentor in teaching methodology.
She has always been preoccupied by personal and professional growth, constantly trying to bring innovation and efficiency in her teaching techniques. She has learned that the best way her students acquire language is through interaction and that the teacher should always be prepared to meet their needs by introducing and consolidating an interplay of factors and methods that help them reach the highest level of performance. Her main aim as a teacher is being able to convey the English language in an attractive and interesting manner, so that her students increase their level of knowledge in a pleasant and stimulating environment.