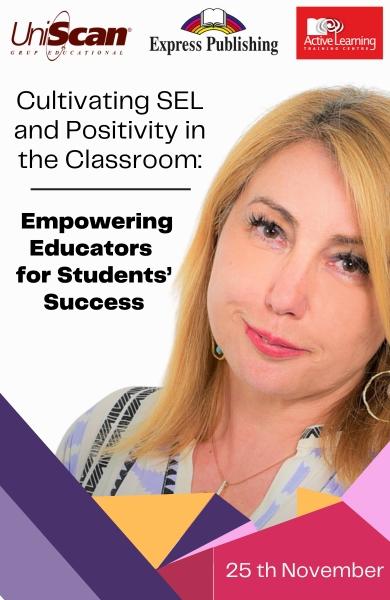 Cultivating SEL and Positivity in the Classroom: Empowering Educators for Students' Success

Locatie Centrul DA, Str. Adrian 22-24, Bucuresti
In this engaging and interactive workshop, we invite educators to explore the transformative power of Social-Emotional Learning (SEL) and positivity in the classroom. Designed specifically for educators, this workshop aims to equip teachers with practical strategies and tools to foster a positive and inclusive learning environment that supports the holistic development of their students.
During the workshop, participants will delve into the core principles of SEL, understanding its impact on student well-being, academic performance, and long-term success. Through a combination of expert insights, group discussions, and hands-on activities, educators will learn how to integrate SEL practices seamlessly into their teaching methodologies.

Key Workshop Topics:
ü Introduction to SEL: Understanding the importance of SEL in education and its positive impact on student outcomes.
ü Creating a Positive Classroom Culture: Strategies for fostering a supportive and inclusive learning environment that promotes emotional well-being and positive relationships.
ü Emotional Intelligence: Enhancing educators' understanding of emotions and equipping them with tools to help students develop emotional intelligence.
ü Building Resilience: Techniques for cultivating resilience in students, enabling them to navigate challenges and setbacks effectively.
ü Mindfulness and Self-Care: Exploring mindfulness practices and self-care strategies to promote personal well-being and prevent burnout among educators.
ü Integrating SEL into the Curriculum: Practical approaches to infuse SEL principles into daily lesson plans.
ü Collaborative Problem-Solving: Techniques for fostering effective communication, conflict resolution, and problem-solving skills among students.

By the end of this workshop, educators will leave with a comprehensive toolkit of SEL strategies, resources, and actionable steps to create a positive and nurturing classroom environment that supports the social, emotional, and academic growth of their students.

Trainees are advised to wear comfortable clothes and shoes.

All participants will receive a Certificate of Attendance.

If you need more information you can contact our representative, Mihaela Olaru, mobile: 0733.300.909, email: mihaela.olaru@uniscan.ro

Despina Mallidou
Despina is a skilled educator, with over 27 years' experience of teaching English Language. She holds a Master's Degree in Positive Psychology from University of Bolton, a Master's Degree in NLP in Education along with an R.S.A. Dip. for teaching English as a Foreign Language (EFL).

Her many years of teaching experience has helped her develop strong people skills and foster a reputation as a key contributor through innovation and collaboration. She is highly skilled at creating and enriching student-centered learning environment in the classroom and providing social and emotional support to students. Identifying improved approaches and enhanced solutions to business challenges, are activities that drive and inspire her. Recognizing that fresh perspectives and new techniques help businesses evolve and grow, led her to develop her own innovative educational tools, including "Learn How To Learn", "GrammArt", "Drama Games and "Incredible Kids".

In her new ventures, as the Founder of "POSITIVE4U" Educating Happy people Project, it is her desire to import positive psychology into her teaching methods, which also involves trainings and workshops for students, teachers and parents.

She is the writer of the book "Teaching Happiness in the Language classroom" edited by Express Publishing.